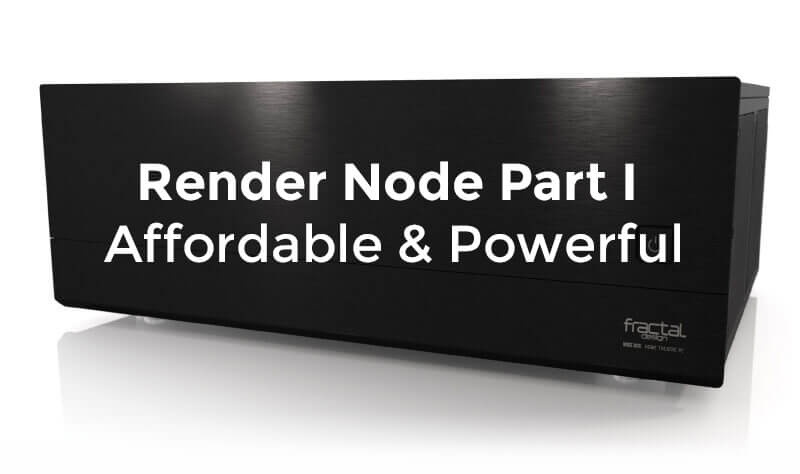 Render Node Part I – Affordable & Powerful
Posted on
14. September 2016
This is the 1st post in my three-part series of building and using your first render node with 3ds Max and Backburner.
Render Node
Part I – "Affordable & Powerful"
Part II – "Network, 3ds Max & Backburner"
Part III – "Best Practices & Usage"
---
What & When To Buy
It's very easy to get caught in the ever improving hardware race. So think about why you want to invest in a render node and what you can actually afford.
If you can't buy it without going in to debt, it probably means you don't need it or are making poor business decisions (more on that some other time).
In my case I needed something to push work to when I had projects requiring multiple camera angles or different scenes. Having a render node would allow me to send a render job out and continue working on the next one immediately. It also freed up time to test stuff while getting to the next to-do item in the scene. No one likes waiting for a render to finish before they can continue to work.
As a bonus, the node is actually 2x as fast at rendering compared to my Intel i7 5820k workstation. Not bad considering the node was also cheaper.
The Hardware For This Build
As I'm writing this post, this type of CPU build is regarded as the best "bang-for-the-buck".
It does require two Xeon CPUs and a special motherboard, so if you are on a really tight budget, I can highly recommend this guide by Dimitris over at pcfoo.com: "The -almost- $500 Rendering Node". It is from 2013, but the principles does still very much apply.
Item List:
Case: Fractal Design Node 605

I wanted a nice, subtle and small(ish) node that I wouldn't mind having visible in the office. You can however go with any ATX form factor for this build. Just make sure to check there is enough clearance for the CPU coolers you get.


Motherboard: ASUS Z9PA-D8

This motherboard was the cheapest I could find that had the ATX form factor. It also had onboard GPU so I didn't need to get a separate one. Note that this type of motherboard uses the ECC ram type.



CPUs: 2x Xeon E5 2670 2.6Ghz SR0kX

I bought all the hardware from "local" resellers. It was only the Xeons I had to get off of eBay. They are insanely cheap compared to the power you get. They've even gotten cheaper since I build my node. The reason seems to be that many big companies has swapped their servers for newer tech and the market is now flooded with these bad boys. Don't worry about how they'll hold up – they will.



CPU Coolers: 2x Noctua NH-D9DX i4 3U

Expensive stuff, but the quality is awesome and my research indicated they would fit. You might be able to get something cheaper, but these ones I know fit and does a good job.



Memory: 8x DDR3 1600 8GB Kingston ECC R 1,5V (KVR16R11D8/8HB) total of 64GB.

Just get the cheapest ones you can get hold of, but be sure to check that they will match the motherboard you get. Most brands has a list of compatibable memory on their website. Double check you get the right type: ECC vs Non-ECC. Ask the reseller if in doubt.



PSU: EVGA Supernova G2 650W 80 Gold

The Xeons aren't that power hungry and in this build there is no GPU that needs power. I chose this one as it had gotten great reviews, was fairly priced and had two 8-pin power cables needed for a dual CPU motherboard. The "Gold" certification helps a little on the power bill in the long run.



Harddrive: 120gb Intel SSD.

Any SSD you can get your hands on. You only need Windows, 3ds max and plugins on it. All assets will be shared via network. You can even go with a standard harddrive, but why bother as SSDs are now so damn cheap, will last longer and are much faster.


Extra Case Fan: Noctua 120 mm NF-S12A PWM

The Fractal case has two 120mm fans already mounted. One in each end. Oddly both were sat to take air in. I was a bit worried about heat from a dual Xeon setup in such a small case. Hence the extra case fan. I mounted the two Fractal fans in one side to take air in and the powerful Noctua fan on the opposite side to take the warm air out. Thereby creating a bit of a vacuum. 
Putting The Stuff Together
I won't go in to details on how the hardware is put together. If you are completely new to this, I highly suggest that you get a friend who knows something about it to help you. Youtube is also a great place to see how it's done:
This guy knows his stuff: How to build a computer in 30 minutes (youtube link)
Again, google and youtube is your friend.
Here's a quick photo of my node when everything is connected.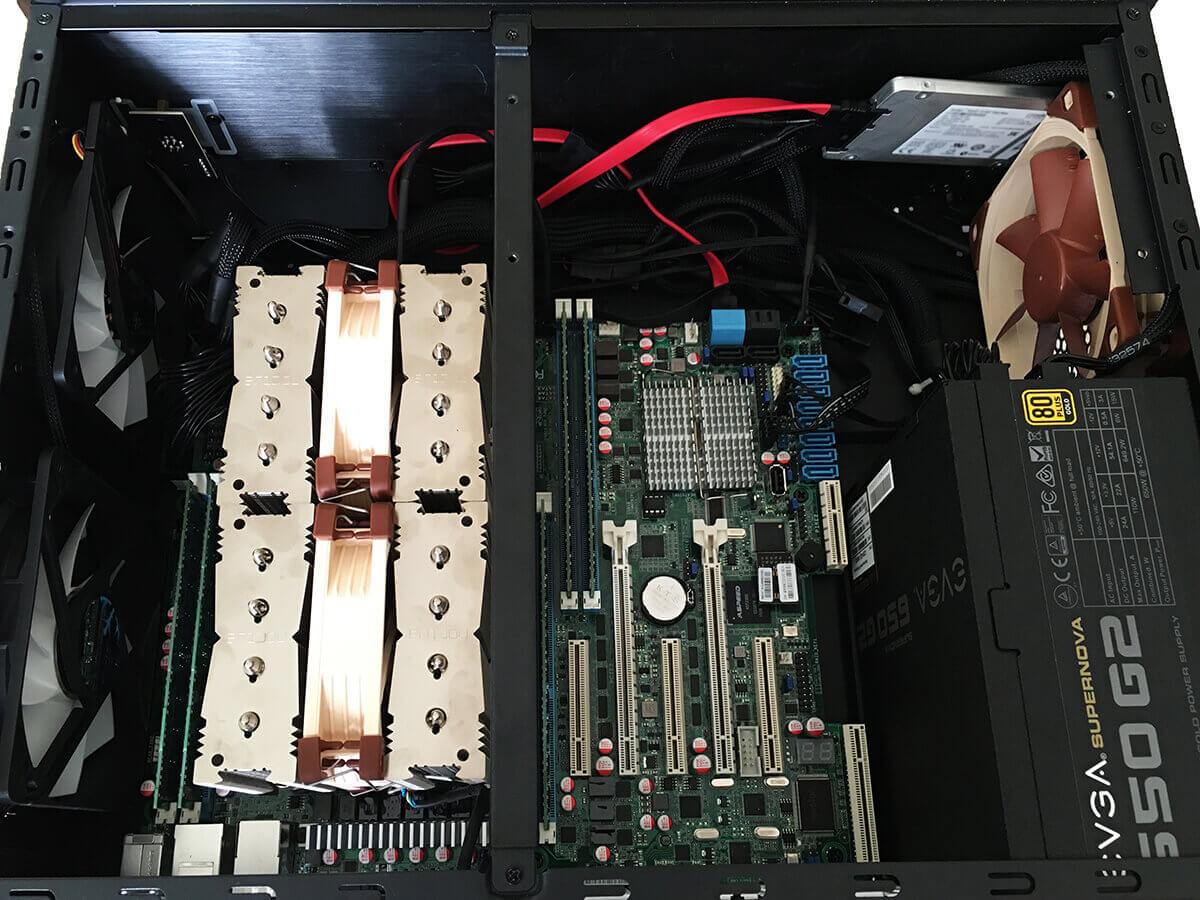 I removed the harddrive bays to get better airflow – and yeah, the CPU coolers had me worried for a second, but they fit!
What's Next?
If you happen to start the build and get to the windows installation, a good tip is to setup your login credentials to match the ones you have on your workstation. I.e. same username and password. It will make it easier later on.
General guide lines for setting up the network, 3ds max and backburner will be covered in part II next week. Sign up below to get notified the moment it goes live.
See you in part II!