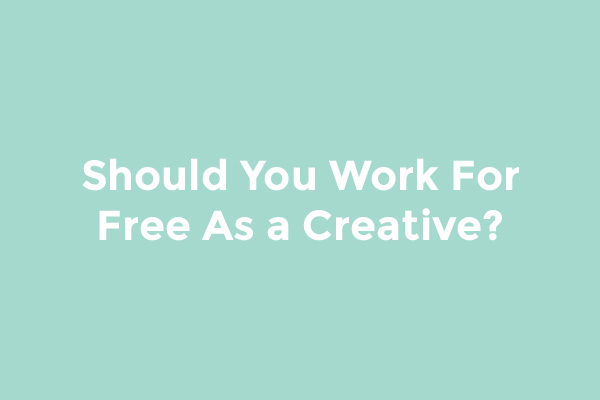 Should You Work For Free?
The short answer is: Yes, but it depends on your situation and there's a key element to always remember. 
I've worked for free and will probably do it again, but not if you ask me to! So please don't bother 😉
My friend and fellow CG artist Fabio Palvelli spoke on this subject in one of his great vlogs:

Youtube video.

 
He covers some of the common questions on the matter and this post is what I feel should be added to the delicate topic. 
Go check him out, he is known to be funny on occasions – oh and he is also the face of the amazing D2 Conference I wrote about last year. (I really should get paid for all this praise…)
Creatives Are Weird
The creative business is an odd business. There's no denying it.
In most industries, "free" always comes with a catch, but we as creatives tend to be so passionate about our field of work and enjoy it so much (at times), that doing work for free isn't just something that happens once in a while, it's almost expected of us.
So when a potential client expects you to work for free, there's nothing like a good tweet: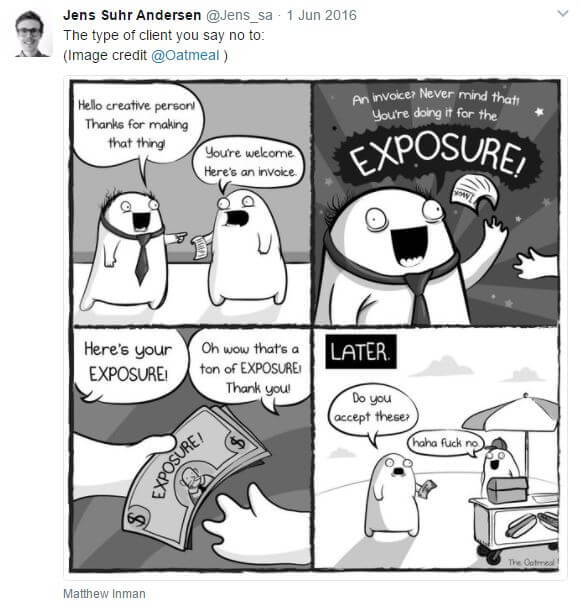 Everyone's life situation is different, but working for free is thought to be a good way to "get in to the market". On the other hand work takes time and time is valuable, so you should get compensated for the time used. We all have the same amount of time in a day (24hours), but the way we spend it differ greatly. Maybe you can relate to one of these:
You are a student or single with no responsibilities and lots of time.
You got a family to provide for and have little to no spare time.
Should you be compensated differently based on the time you have available? I don't think so.
It doesn't really matter if you spend the time you have on something unproductive anyway. I don't know, maybe you spend it on yet another personal project. Testing different bokeh effects on a shallow DOF shot of some stupid plant and light fixture in a "Scandinavian" apartment that no one (but your Facebook group) cares about – instead of doing meaningful work.
Ahem…
What I'm getting at, is that it's very hard to give advice that will work for everyone.
There is however one key thing I think should be the rule for everyone no matter their situation:
"Never take on a client who asks you to do free work"
You are the one who decides when, to whom and under what circumstances you'll offer to work for free. Simple as that. Doing free work is something you choose to do. Not something you are asked to do.
If the client asks you to deliver your service without payment, he is simply trying to take advantage of you. I don't like these kind of people. There is no value exchange. Only value taking. So turn clients like this down, but remember to be a professional about it. You always want to be the bigger person, even though it seems unfair.
There will be plenty promises of exposure, recommendations and possibilities of future paid work. Don't bite.
The chances of you getting burned are too high. There's a much better way of doing free work.
When Do You Choose To Work For Free?
Since so much depends on your situation, I can only speak to something we all experience:
The time when there's no commercial work. Aka: downtime.
You probably have a (or a couple of) half-finished personal project collecting digital dust. All of them from "downtime" periods. Don't get me wrong, doing personal projects is a great way to grow as an artist and it's fun to try something new. But since this is a post about if you should do free work or not, I'm sure you are as frustrated as I was when clients aren't waiting in line at your door.
So, what I suggest you to do (and what I did when starting out) is to delete your Scandinavian-apartment-DOF-test.max file and see if you can't provide some actual value to someone.
I knew I could provide great value to a client if I had the chance, but no one was contacting me since they didn't even know about me yet.
As a little side note, the reason client's aren't contacting you is probably this:
They have never heard of you
They don't trust you
Your work isn't good enough (yet).
All stuff for future post. Okay, let's get back on track.
What To Do Then?
Open up your social media apps and maybe the local newspaper. Instagram, FB, Houzz, Behance, Linkedin, Twitter, anything where you follow (ideally) a local architect or whatever your target client would be.
Either you find a potential client you could really help out (maybe their current images suck) or you try and seek out someone you'd love to work for.
I'll cover the first type in this post and save the other for later.
So, you've found someone who has some interesting projects, but their image material is really lacking. You know you could have done it so much better. If only they had come to you when they needed it…
If there's enough material available, you should redo that project as your new personal project.
How would you approach this task if they had come to you? It might be a bit hard without knowing the brief, but just do your best. Try and dig up some more info about who this company is. What are their values, what type of projects do they normally do. Can you find any interviews with one of the founders or something like that. Go deep. It's a great exercise none the less.
Take your time. Be thorough. Make the project great and fitting to their profile. Show a good understanding of their company and project. You need to present yourself as something they've been missing.
Document Your Process
While you are working, save a few work-in-progress images and references and write down some of your thoughts. As you are doing this you are gathering material and preparing content for the case study you will present them with.
Case study?! Yeah, a case study. You aren't just going to send them an email with some images. When you've finished your project, you'll have a good amount of content to quickly put into a pdf or you website (don't make it public until that client gives the okay) for a great case study on this project.
Showing the client (and future potential clients) how you actually handled this project will build one of the most important things in client services: trust.
You've made a bunch of great looking images (or what ever the client needed improved) and your case study is ready. Now go ahead and prepare that email you've been longing to send for quite a while.
Sending The Work To The Client
Make sure you find at least two or three email adresses to decision makers in that company. Send it to the right guy or gal as main receiver and put the other one or two in CC – just in case the main one misses the email, is sick or something else. You want to make sure your hard work is noticed and that someone will pick up on it, but don't be a douche and spam every one!
In the email you don't start off by talking about yourself. Make it about them. We all love hearing great things about ourselves. Explain to them that you've come across their X project and you found it very interesting. Leave out that you think their images look like crap. As much as we love hearing great things about ourselves, we hate hearing negative things even more.
End the mail with something like: "Here is how I have approached your X project and this is the final result. I'm curious to know how you normally work with such a project and I would love to learn more about your process."
That's it. No sleazy sales talk. Just curiosity and great work. Be patient. People tend to be busy, but I'm sure they'll get back to you eventually. You'll definitely be on their radar and while you are waiting and happen to experience downtime, do it all over again with a new potential client.
This approach to free work will give you meaningful portfolio work that potential clients can connect with. While doing so, you get images to use on social media to build awareness about your work and you also end up with a great case study to build trust when people visit your website.
You will bring great value to (hopefully) thankful people and as you've proved to them you can do good work on exactly their type of project, you'll be one of the first ones they think about when in need of your type of service.
This, as everything on the blog, is just my personal opinion and advice to people who is in the same situation I have been in and what worked for me. I'll love to hear from you how this worked out for you, so don't be shy and send me a message if you want 🙂